India vACC and Infinity Virtual present the "IndiGo Mumbai Real Ops" event. On July 3rd from 1330Z-1630Z, pick & fly your favourite route from over 200+ active IndiGo schedules on Infinity Virtual from/to Mumbai International Airport (VABB). We will be staffing up Mumbai Airport (VABB), Mumbai FIR and other major airports in India. #DiscoverIndiaDiscoverVATSIM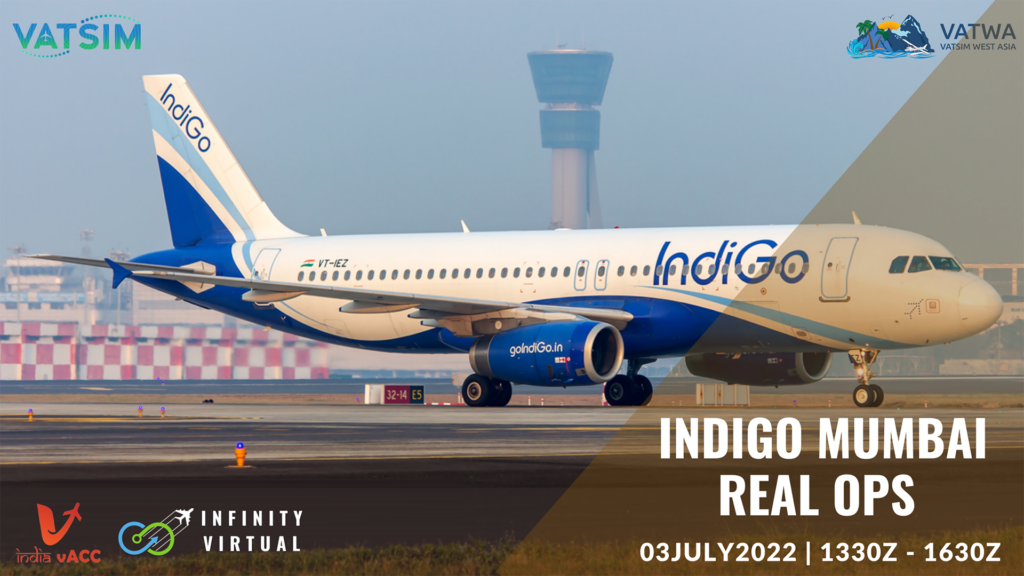 It's simple! Infinity Virtual has over 200+ IndiGo departure and arrival schedules in and out of Mumbai airport. Choose a real-world IndiGo schedule, bid your flight and fly in/out of Mumbai airport with top-down ATC services.
You are welcome to fly outside the virtual airline too! In this case, we'd highly appreciate if you can fly an IndiGo airline route with a relevant aircraft type (A320, A320neo, A321neo, ATR) and callsign (IFLY) to keep the "realism" levels high! If you're not into flying airlines or big planes, you can choose to fly your favorite GA aircraft within the Mumbai airspace and take advantage of our friendly ATC services.
NOTAM:
If you are bidding for your flight from the website, the bid will happen with the original flight number. (Eg., IGO549). However, you are free to use your own flight number in the callsign during the event. Make sure your callsign starts as "IFLY…" (Eg., IFLY5S)"!
You can bid/book your flights here! We can't wait to see you in our airspace on July 3rd!